On Sunday October 22, the Paddling Palau team joined Botanist Benjamin Crain for a day of orchid hunting among the limestone islands. Benny is a visiting scientist from the Smithsonian Institute and is helping to refine Palau's understanding of it's astonishing orchid diversity. Palau boasts at least 80 species of orchids, 28 of which are found nowhere else on earth (endemic species). Dr. Crain hopes to add a few species to our list by closely examining Palau's botanical collection as well as searching for cryptic species in the field.

Storm winds from the SW prevented our team from venturing any further out than Ngeruktabel Island. We tucked the boat into "Botany Bay," which is a secluded cove with overhanging
Ficus
trees dripping with ferns and epiphytes. It proved to be the perfect site to search for orchids.
One of the first discoveries was a grove of Shooting Star Orchids,
Diplocaulobium elongaticolle
in mass bloom. The
Ficus
tree they were clinging to had spontaneously shed its leaves exposing the orchids to direct sunlight. The added heat stress may explain why so many orchids produced flowers simultaneously.

​Shortly thereafter Benny spotted
Bulbophyllum clandestinum
which had previously escaped the view of the Paddling Palau team. With a microscopic flower and miniature leaves it was not surprising that such a "clandestine" species remained unknown to the group of kayak guides.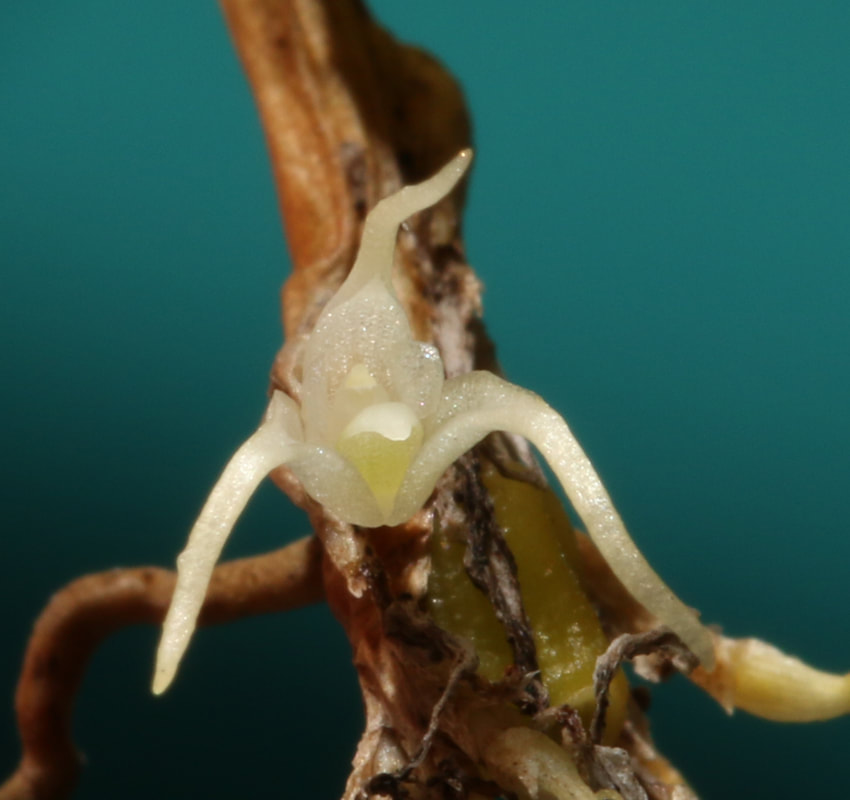 ​​The gem of the day however proved to be the discovery of Oberonia palawensis. As the name suggests, this is one of Palau's 28 endemic species. Though well known to science, this thrilling orchid had never been seen by the Paddling Palau team. Bathed in soft light, the orchid made an idyllic photo subject as they were bearing both flowers and fruits. The hair like seeds are contained within a pod. When the pod dries and bursts open, the seeds are cast out through Ballistic Dispersal. Benny informed us that the seeds contain no endosperm (the nutrients of the seeds). This allows them to remain light weight and float away on air currents. Upon settling, they must then seek out the company of mutualistic fungus, which subsequently feed the germinating orchid until the plant can photosynthesize on its own (and presumably pay back its debt to the fungus).
​With a keen interest in Etymology, we ended the day with a bit of online research. It turns out the genus name

Oberonia

was applied in reference to Oberon, the Fairy King of Medieval & Renaissance literature. In William Shakespeare's

Midsummer Night's Dream

, Oberon is the king of all fairies and is fighting for custody with his wife Titania over their child.
Much like the King of Fairies, the
Oberonia
flowers live in hiding and are difficult to find.... and even tougher to photograph! With over 700 native plants, Palau is full of hidden treasures just waiting to be discovered.